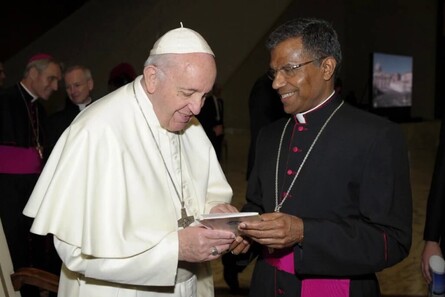 History of the Syro-Malabar Apostolic Exarchate for Canada
The mass migration of Syro-Malabar Catholics from India to Canada, which started in the early 1960's, facilitated occasional self-organized small community gatherings to embrace their spiritual and cultural background under the temporary leadership of various visiting Syro-Malabar priests and lay leaders. Gradually, mission centers for the Syro-Malabar faithful (a mission center is a precursor to a diocesan community) began to spread across the country.
With the establishment of the St. Thomas Syro-Malabar Diocese of Chicago in 2001, His Excellency Bishop Jacob Angadiayath, bishop of the St. Thomas Syro-Malabar Diocese of Chicago, was appointed as the Apostolic Visitator to the Syro-Malabar faithful in Canada. During his visits, the Apostolic Visitator began the ecclesiastical organization process to set up communities in Canada.
On August 6, 2015, His Holiness Pope Francis erected the Apostolic Exarchate for Syro-Malabar faithful in Canada, with its See in Mississauga (Ontario), and has appointed Bishop Jose Kalluvelil, as the first Apostolic Exarch. The new Exarchate has 25 parishes and missions. The Holy Father has raised the Exarchy of Missisauga in Canada to the status of an Eparchy on 22 December 2018.
Contact:
Address: 6630, TURNER VALLEY ROAD, MISSISSAUGA, ON, L5N 2P1, CANADA
Phone - +1 905-858-8200
Fax - 905-858-8208
Web - Syro-malabar
Email - bishop@syromalbarcanada.org