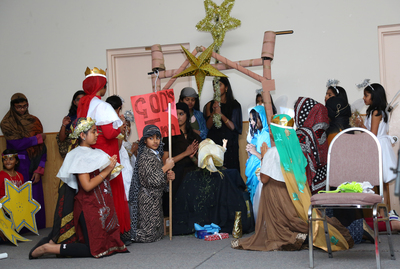 Syro-Malabar church identify and acknowledge parents as the primary catechists of their children. Through the introduction of basic prayers and Holy mass, parents lay the fundamentals of faith in their children right from infancy. In order to provide continuous education and proclamation of the word of God, the church entrust and instruct catechists of the individual parishes to conduct regular and systematic catechesis through Sunday schools.
Our parish has about 25 committed catechists who strive to enrich the spirituality and strengthen the faith formation of our children from kindergarten to Grade 12. We follow a developmentally appropriate curriculum which uses the Catechetical textbook series of the Syro-Malabar church called, 'On the path to Salvation', in the social and cultural context of Canada. We conduct weekly catechism classes after Sunday Mass.
In addition to the catechesis, our students have the opportunity to share and showcase their talents in music, art, biblical knowledge, public speaking etc. through annual events. A selected group of catechists are assigned annually to the sacramental preparation of children receiving their First Holy Communion & the sacrament of reconciliation. Our Sunday school students serve and lead various ministries within our parish as altar servers, lectors etc. Aligned with the academic year in Canada, our Catechism classes are held from September to June and we welcome all incoming parishioners to register their children in catechism classes.